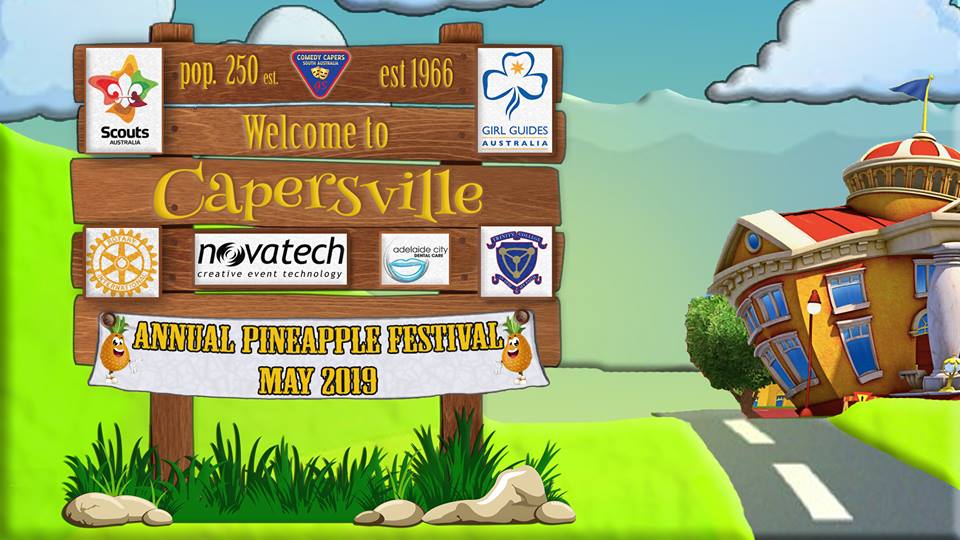 2019 Show – Capersville
Let the cast and crew of Comedy Capers Gang Show take you on a journey to a town where everything is just a little bit quirky!
Our 2019 show is set in Capersville, and explores the people and places within. Watch as our cast as the townspeople live, play and work in the town square, the local park, the fire station and many other kooky and exciting places! There will be plenty of music, dancing and sketches that will have you in stitches!
So, make sure you come along and enjoy, not only the theatre-craft and fantastic performance our Scout and Guides have developed throughout the season, but also see the amazing abilities of the many talented individuals behind the scenes, with fabulous costumes, lighting, stage sets and props and our dynamic live band to name a few. See you at Comedy Capers Gang Show!
Friday 24th May – 7:30pm
Saturday 25th May – 2:30pm
Sunday 26th May – 1:30pm
Wednesday 29th May – 7:30pm
Thursday 30th May – 7:30pm
Friday 31st May – 7:30pm
Saturday 1st June – 1:30pm
Saturday 1st June – 7:30pm
Adult $20.00
Concession- $16.00
Child- $12.00
Family (2 Adults & 2 Children)- $54.00
ALL TICKETS FOR WEDNESDAY PERFORMANCE $12 PER PERSON
Comedy Capers Gang Show is a non profit performing arts group proudly associated as part of Scouts Australia (SA Branch) and is currently in its 54th consecutive year of production.
Our group is a pioneer of Northern area theatrical variety show offering live music, singing, acting and dance performed by the youth members of Scouts Australia (SA Branch) and Girl Guides SA. Our mission is to promote the aims, principals, goals and values of scouting through the arts.
"The aim of Scouting is to encourage the physical, intellectual, social, emotional and spiritual development of young people so that they take a constructive place in society as responsible citizens, and as a member of their local, national and international communities."
Find out more